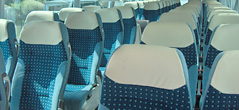 Autos Gonzalez S.L. was set up as a limited company in the year 1983 in Ourense, but it had been created in the year 1972. Our company renders regular and special road transport service, and from the year 2002, we have also expanded our activity to luxury car hire.

Autos Gonzalez S.L. participates directly in the social capital of other societies, which lets us potenciate and compliment the development of our activity:




Autocares Gonzalez S.L.: Transport company.


Viajes Compostela S.A.: It was set up on the 2nd December 1981. Autos González S.L. mainly participates on it. Offices are located in Calle de la Concordia, 13 ground floor, Ourense. This company owns a department specialized in school transport, communities, groups, associations, sport clubs...
C./ Corunha 9 – 32005 Ourense | Tel. 988 22 30 36 - Fax 988 24 80 51 - Service hotline: 609 57 20 57
C./ Arenal 60 1º A - 36201 Vigo | Tel. 986 44 12 22 - Fax 986 22 20 11 - Service hotline: 620 77 75 77